If we look at landslides from the earth's perspective we can define them as a condition towards stress relaxation and minimization of potential energy. The earth is trying to come to equilibrium.  Landslides are formed either from natural conditions such as erosion of slope toe, geological uplifting etc or are manmade when extensive excavation or loading is taking place in the foot or the top of a slope respectively. These are the main reasons why landslides form but the triggering mechanisms for a landslide to occur may be different.
In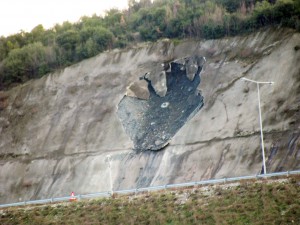 my opinion the most important triggering factor for a landslide to occur is the modification of groundwater or pore pressure conditions. This issue becomes more important if we consider the climate change which is producing different rainfall conditions with abrupt changes on ground water conditions.
Due to weather pattern changes, ancient, dormant or newly formed landslides will start to occur all and all more frequently. This will affect the economies and life worldwide and is something that needs to be addressed not only from geotechnical engineers and geologists but also by government officials, politicians and decision makers in general.
Landslides will become a hot topic in the near future, here are some very interesting blogs dealing with this issue:
http://blogs.agu.org/landslideblog/
http://arizonageology.blogspot.co.uk/
http://science.kqed.org/quest/2012/11/08/earthquake-landslides-a-widespread-hazard/
http://ihrrblog.org/2012/07/16/stunning-images-of-four-recent-landslides/